Vilnius was the seat of Kyiv Metropolitan for a long time, The Head of the UGCC at a meeting with the Minister of Foreign Affairs of Lithuania
Sunday, 23 September 2018, 21:50
On September 22, His Beatitude Svіatoslav, the Head of the UGCC, taking part in the visit of Pope Francis to the Baltic States, met in Vilnius with Mr. Linas Linkevičius, Minister of Foreign Affairs of Lithuania.
The meeting was held in the premises of the Lithuanian Ministry of Foreign Affairs. Mr. Asta Andrijаuskiene, Head of the Eastern European Affairs Department, and Fr. Vinkentij  Pelуkh, OSBM, abbot of Saint Josaphat Monastery in Vilnius.
The parties discussed the social and religious situation in Ukraine. His Beatitude Sviatoslav presented to the Minister the activity of the national forum "Transformation of Ukraine" and the role of Churches and religious organizations in building up civil society institutions and European mechanisms in state institutions.
The Head of the UGCC stressed that his participation in the visit of the Holy Father to Lithuania was a tribute to the historical heritage of the Ukrainian Greek Catholic Church, as Vilnius was for a long time the seat of his predecessors, the Kyiv Metropolitans. His presence is also an expression of gratitude to the Catholic Church of Lithuania for help and solidarity with us during the communist persecution and a sign of full cooperation in the present.
At the end of the meeting, the Minister thanked His Beatitude Svіatoslav for his visit and assured that Lithuania is with Ukraine in its struggle to be free and independent and will always support its people.
Department of Information of the UGCC
PUBLICATIONS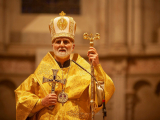 TUESDAY, JUNE 4 DURING HIERARCHIAL DIVINE LITURGY AT THE UKRAINIAN CATHOLIC CATHEDRAL IN PHILADELPHIA OVER 50 BISHOPS, WILL PARTICIPATE...
MEDIA