"We must use all the possibilities for the peaceful regulating of the conflict ... but not at the cost of Unification of Ukraine", - the Head of the UGCC
Monday, 03 March 2014, 13:53
The direct intervention of the neighbouring armed forces to Ukraine began. Our country is involved in a military conflict. I think that the entire world community is on the side of Ukraine, as neighbouring Russia is the aggressor.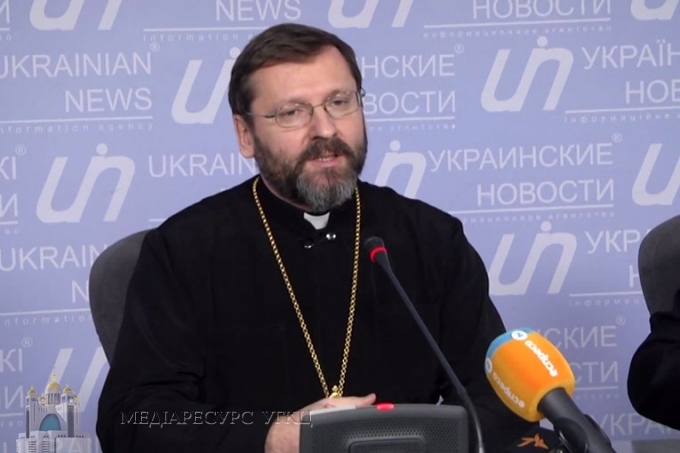 It was said by His Beatitude Sviatoslav (Shevchuk), the Head of the UGCC during a telethon on the Public television.
The Primate of the Church said that the three revolutionary months the UGCC was with its people. According to him, the Church will stay with its people, "We have to use every opportunity for a peaceful regulation of the conflict, but if, God forbid, we have to be on the battlefield, the UGCC is ready for the Chaplain Service." The Head of the Church said that every citizen must be ready to stand in defence of the independence and sovereignty of Ukraine.
Also, the Major Archbishop of the UGCC said that AUCCRO activity during these months showed that the Churches are now consolidated. "None falsehood and violence was covered by the church's silence. In this we are one,"- he commented, adding that at the time when there is a danger for Ukraine, every confessional disputes should be relegated to the background.
"We must be prepared to even sacrifice our lives to save indivisible unified Ukrainian state. Despite the fact that our country is multi-ethnic and multi-religious, we should all be together to defend our country,"- said His Beatitude Sviatoslav.
Department of Information UGCC
MEDIA