We rejoice in its ability to be a metropolis, - the Head of the UGCC led celebration of 10th anniversary of restoration of Lviv metropolis
Tuesday, 23 November 2021, 11:54
Today we got together here in a historic church, St. George Cathedral in Lviv to thank God and celebrate the first decade of Lviv metropolis. You have grown more mature, learning to be dignified and free. The Head and Father of the UGCC His Beatitude Sviatoslav said in his homily on the 22nd Sunday after Pentecost on the occasion of the 10th anniversary of the restoration of Lviv metropolis.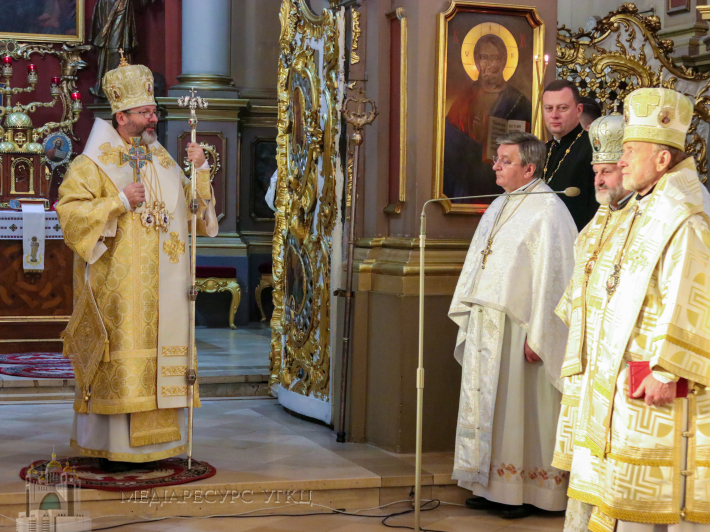 The Head of the Church started his homily with reflections on the biggest disaster of a contemporary man which is the loss of sense of living. It is paramount to understand the sense of life and suffering.
The sense of life, according to His Beatitude Sviatoslav lies in preparing oneself to eternity, and only from the perspective of eternity we have to see the difference between good and bad. The Parable of the Rich Man and Lazarus shows that the center of our life should be eternity.
November 21, according to the Julian calendar the Church celebrates the feast in honor of St. Michael the Archangel and other angels. Exactly these bodiless spirits are called to help people to prepare them for eternity.
The Head of the Church also reminded that this date is dedicated to the Day of Dignity and Freedom in Ukraine.
To be free means always to choose good, and real freedom is when a person does not hesitate in making her choice when choosing good that helps to reveal and live through both, own dignity and dignity of another person. "Freedom is given to love God and a neighbor".
"It is so important for us today to reveal sense, the sense of our struggle and our life amidst the newest challenges. Today, in a special way we are commemorating Heroes of the Heavenly Hundred and Revolution of Dignity. Furthermore, we are commemorating all our predecessors, participants of national liberation movements of Ukraine for freedom and independence. Their life paths distinctly show what is worth living and dying for.
"When I choose to do good, I will never lose my way. When I choose to love God and Ukraine no one will ever discourage me, even under the most drastic circumstances", the Head of the UGCC added up.
The same day, the clergy and laypeople at St. George Cathedral in Lviv were celebrating the first decade of Lviv metropolis, which occupies a special place in the history of today's local Ukrainian Greek Catholic Church.
"These ten years have been time when our Lviv metropolis despite of learning to have metropolis, was also learning how to be one. Today we are congratulating our metropolitan and archbishop Ihor on his this first jubilee. It has been a blissful time. We send our greetings to all bishops who are members of Lviv metropolis in Lviv region. We rejoice in this your first steps and ability to be a metropolis, a vibrant cell of our Church in these difficult circumstances", the Head of the Church said.
The UGCC Department for Information
PUBLICATIONS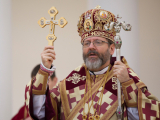 If you have parents, friends who are undergoing this period of grief, please, stay with them, because shared grief hurts less. This and many...
MEDIA