Catholic education not only provides knowledge, but also upbringing based on Christian anthropology, Head of the UGCC
Friday, 31 May 2019, 11:27
Catholic education is a "brand" of quality and has a great demand in the world, since it is open to all people, regardless of denomination. It is Catholic education that can help to improve the culture of work in Ukraine, as well as help to form high moral values.
This was emphasized by His Beatitude Sviatoslav on Thursday, May 30, 2019, in the framework of his visit to the St. John Bosco Professional Training Center. The Head of the Church had the opportunity to communicate with students and teachers, and also visited their training laboratories.
First of all, the Bishop thanked the youth for their efforts in teaching, and the teachers - for their important contribution to the growth of youth. He assured that such an educational institution is unique in our Church and in Ukraine in particular.
"Ukraine is now undergoing educational reform. In my opinion, the goal of this reform is to achieve the same level of state education as Catholic one. It is special because it not only provides professional knowledge in accordance with international standards, but also education based on Christian anthropology." said the spiritual leader of the Greek Catholics.
The Head of the UGCC assures that educational institutions of this direction are effective because they provide the necessary skills and skills for the development of students. "We see that graduates of these schools successfully passed the exams of the ZNO. In my opinion, the state authorities should change their attitude to the role and place of this education in the Ukraine," the Primate is convinced.
In addition, he reminded how the Center of St. John Bosco received its name. In his time, this clergyman from northern Italy saw how children from socially disadvantaged sections of the population need not only social welfare, but also help to integrate in society. Moreover, the pastor guaranteed employers honest, responsible and good workers, and also contributed to the pupils receiving social protection.
According to His Beatitude Svyatoslav, now Ukraine is losing its working hands massively, "therefore institutions of this type help young people find themselves, get decent work and good pay in Ukraine".
He added that as a result of modern tendencies, the role of the teacher has changed significantly. Currently, the teacher is not the main source of information, now he has to set the right path to development, teach how to navigate in the world of information, and provide education based on moral rather than false values.
The UGCC Department for Information
PUBLICATIONS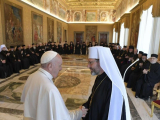 United around you today, Holy Father, we want to assure you that our Church is undergoing a pastoral transformation. We are aware that it is not...
MEDIA