Equality of all churches and religious organizations in relations with the state should be inviolately respected, the Head of the UGCC during a meeting with the Prime Minister of Ukraine
Thursday, 17 May 2018, 16:49
On May 16, 2018, at the residence of the Head of the Church near the Patriarchal Cathedral of the Resurrection of Christ in Kyiv, a meeting was held between the Father and Head of the UGCC, His Beatitude Svyatoslav, and Mr. Volodymyr Groysman, Prime Minister of Ukraine.
During а long and confidential dialogue, His Beatitude Sviatoslav touched upon some of the most urgent topics of socio-political life and state-confessional relations in Ukraine. The first issue, discussed by the state and church top-rank officials, was the question of institutionalization of the united Orthodox Church of Ukraine. His Beatitude Sviatoslav once again spoke about the official position of the Ukrainian Greek Catholic Church on this problem and noted that a good cause of uniting the Orthodox people in Ukraine should not be negated due to the creation of a church structure that would, de facto, have the status of a state church. The equality of all churches and religious organizations in relations with the state and their equal status should be inviolately respected because it is legitimate and for the benefit of both the state and the Church.
The Prime Minister of Ukraine agreed with these reservations and assured: "I always say that the road to the temple should be free - without hindrances and restrictions. This is the basis on which you can build everything else. "
The next question, which was discussed by the interlocutors, was family and family policy issues in Ukraine. His Beatitude Sviatoslav voiced a number of topical problems faced by Ukrainian families, which the Church is well aware of from her pastoral practices. During the discussion, several concrete measures were proposed to improve the situation of the family as the basis of society and the full support of these actions on the part of the Church was assured. "We want to put our experience in the service of our state," said His Beatitude Sviatoslav.
In addition to these issues, the question of strengthening the confidence of our citizens in state institutions was discussed, and in this context - the urgent need for a good electoral law, the issue of youth policy of the state, and the question of establishment of justice, namely the imperative need for the creation of an Anti-corruption court in Ukraine – were mentioned.
At the end of the meeting, His Beatitude Sviatoslav thanked the Head of Government for this historical visit and presented the guest with an icon of the Theotokos and a presentation edition about the Ukrainian Greek Catholic Church.
Photo: https://www.facebook.com/volodymyrgroysman/
Department of Information of the UGCC
PUBLICATIONS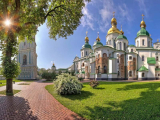 Below, is a translation of a text sharing the views of the Head of the UGCC Commission on Ecumenical and Interreligious Affairs, Rev. Ihor...
MEDIA