Head of the UGCC to the mothers of dead and missing heroes: Thank you for taking courage to put on this beautiful wreath, smile and give hope to all of us
Wednesday, 08 May 2019, 11:50
Within a preparation to the Mother's Day in Kyiv History Museum Head and Father of the UGCC His Beatitude Sviatoslav opened a photo exhibition of portraits of mothers of dead and missing soldiers on East Ukraine, victimized by a Russian aggressor.
Twelve mothers of heroes were present on the opening, taking part in a project called "Stout hearts. Mothers".
This photo exhibition was initiated by the Military Chaplaincy Department of the UGCC within a project of spiritually psychological care, support and rehabilitation of families of deceased militaries, also supported by All-Ukrainian public organization "Veteran's brotherhood".
An author and project participant, mother of a deceased hero Natalia Dubchak mentioned during the opening that this project was conceived by chance. She said that after the loss of her son she was struggling to overcome that awful state all of mothers go through. And only those who have felt the same will be able to understand and find the right words for consolation.
Another Ukrainian hero's mother Tetiana Toporovska said that there can not be the worst test for a mother than to lose her only son, with having no clue how to live on but not just to exist. Nevertheless, the do not let grief overcome them. "Our sons made us strong", she says.
Opening a photo exhibition Head of the UGCC mentioned: "Who is able to comprehend an entire tragedy and pain of a mother who is losing a life of her child? Who can understand her? While listening to your words of how a woman who has lost her only child can be solely understood by the same grieving mother, and looking at these portraits of mothers with their sons I saw an image of the Blessed Virgin Mary. She is the only one who is able to understand us completely as the one who lost her only Son; the one we called Mother of Perpetual Help".
His Beatitude Sviatoslav expressed his utmost respect to mothers of heroes and thanked mothers of heroes for taking courage to take part in this project. "I regard you as real mothers of Ukraine. Giving the lives of your sons for the life of Ukrainian people – you became mothers of a nation.
Head of the UGCC gave every mother a medal of Mother of Perpetual Help. "May the Blessed Virgin Mary, who knows what it takes to lose an only Son be your guardian", the Major Archbishop wished.
An exhibition takes place from 7th till 20th of May, 2019 in the premises of Kyiv History Museum, B. Khmelnytskoho St. 7.
The UGCC Department for Information
PUBLICATIONS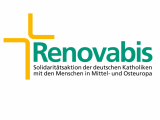 From 13 to 19 May, the Father and Head of the Ukrainian Greek Catholic Church (UGCC), His Beatitude Sviatoslav, was to visit Germany at the...
MEDIA