Head of UGCC: "A case of Ukrainian-Polish reconciliation must turn into a part of Ukrainian and Polish Christian culture"
Tuesday, 17 October 2017, 22:04
On Sunday, Oct 15 a grand opening of John Paul II was held in Kyiv. It was preceded by The Mass in St. Nicholas Roman Catholic Cathedral (Velyka Vasylkivska 75, St.) which was celebrated by His Beatitude Sviatoslav, Head and Father of UGCC, in co-service with bishop Vitalyi Kryvitskyi, Bishop of Kyiv and Zhytomyr Diocese of RCC in Ukraine and bishop Mykhailo Koltun, Bishop of Sokal and Zhovkva, UGCC.
In the ceremony also participated: Ian Pieklo, Ambassador Extraordinary and Plenipotentiary of Polish Republic in Ukraine, representatives of the Polish seym, Tomislav Vidošević, Ambassador Extraordinary and Plenipotentiary of Croatia in Ukraine, Ukrainian politicians, government officials and statesmen.

"Today we are marking a special date - as one of the streets is named after saint John Paul II. I would like to wish all Kyiv citizens not just to walk down the street of John Paul II but to follow the way he showed us", Head of Church mentioned.

His Beatitude Sviatoslav pointed out what a significant contribution Pope John Paul II brought to the European nations: "He is said to be the biggest humanist of the XX century because he, asserting human dignity, destroyed all the walls which divided then Europe. He established the integrity among countries and people. In fact, to his Polish nation he once said: "Don't be afraid!" My predecessor His Beatitude Lubomyr repeated the same words to the Ukrainians Dec 1, 2013 at Maidan: "Don't be afraid".

Head of UGCC told that John Paul II is known being the one who knocked down the Berlin Wall, who, owing to his idea of peace between European nations, became a father of a renovated modern Europe. "We know he was the first Slovenian Pope, first Polish Pope, furthermore, a great gift not merely for Polish but for Ukrainian people as well", His Beatitude Sviatoslav said.

Head of UGCC mentioned that there is no coincidence in proclaiming John Paul II a patron of Ukrainian-Polish reconciliation, what has happened recently, and reminded about the first act of reconciliation between Polish and Ukrainian episcopate.

Namely these days we are celebrating the thirty anniversary of act of reconciliation between Polish and Ukrainian episcopate what was held before the elaboration day of 1000th anniversary of the Christianization of Rus' in Rome. After all, it was for the first time when bishops of UGCC and Polish Episcopal Conference asked for forgiveness for the woes, which Ukrainians and Polish have caused each other for the last XX century", Head of Church said.

"From the top of thirty years we feel that it is not enough simply to sign a beautiful declaration. A case of Ukrainian-Polish reconciliation must turn into a part of Christian culture of Ukraine and Poland. May this celebration become one more further step, so that this "balsam of forgiveness" –given and received, therefore, may purify our national memory, deliver us from the past wounds and let us move on together to the common, peaceful and united future", His Beatitude Sviatoslav highlighted. 
The UGCC Department for Information 
PUBLICATIONS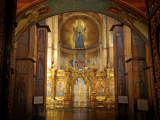 Dear brothers and sisters in Christ! Throughout our millennial history, our Church and our people have fully experienced in their bodies the...
MEDIA