Head of UGCC in Innsbruck: You do not need to defend the truth because it has its own power, you just need to testify to it
Monday, 11 November 2019, 08:14
Often we want to defend the truth but the truth really has its own power. It does not need to be defended, it simply must be shown and revealed. God's truth always overcomes all unrighteousness no matter how powerful the latter may seem.
This was stated by the Father and Head of the Ukrainian Greek Catholic Church, His Beatitude Sviatoslav, on November 9, 2019 in Innsbruck, Austria, at St. James Cathedral during a homily to the faithful. The Liturgy was held in German.
The Primate noted that by this Divine Liturgy all the participants would like to thank the Lord God for the 120 years of history of the Ukrainian community in Innsbruck.
The Head of the Church thanked all the educators, teachers of Christ's wisdom in Innsbruck, who brought up witnesses of the Christian faith for our Church.
"Today we heartily thank the professors, the Jesuit Fathers, the Redemptorist Fathers that their students have become an open testimony of Christian faith to the whole world," said the Primate.
The Head of the UGCC said that when he visits different countries in Western Europe, he feels that Christians have to constantly justify themselves. "We must justify the basic elements of our faith even in Catholic universities ... But today Christ says to us, 'Do not be afraid and do not worry, for I will give you a word that no one in the world will be able to resist,'" said His Beatitude Sviatoslav.
The Primate assures that the world today needs the testimony of the Christian life. "The world of the post-truth is lost in ideas and words which are changing their meaning. The world wants to see the true ones who live according to what they believe in. If the world today sees us, Christians, as sheep among wolves and not as wolves among wolves, it will believe in God. Today, the world needs to see true Christians as good parents, good educators, teachers and professors, real people who, through their humanity, testify to the greatness and holiness of their Creator and Savior."
"Let us turn every persecution against the Church, every denouncing of the Christian faith into an opportunity to testify about the truth," called the Head of the Church.
Photo: Roman Petruniv
The UGCC Department for Information
PUBLICATIONS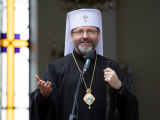 When we see people's transgressions, iniquities and even crimes we, first of all, have to undertake an examination of conscience, so not to do...
MEDIA