His Beatitude Sviatoslav during the opening of the Basilian Provincial Chapter: The next superior should be above all a spiritual healer
Tuesday, 11 February 2020, 09:38
The Holy Divine Liturgy in Briukhovychi on the occasion of the beginning of the Provincial Chapter of the Province of the Most Holy Savior in Ukraine was celebrated by the Head of the UGCC, His Beatitude Sviatoslav, together with the Provost of the Province Fr. John Shkolyk, OSBM, provincial board members, abbots, and chapter fathers. The Chapter will last from February 10 to February 14, 2020.
In the sermon, His Beatitude Sviatoslav noted that the Divine Liturgy is first and foremost a meal of God's Word. In the various circumstances of our lives, for our spiritual nourishment, we hear His voice.
"First and foremost, our mission is to bear faith. Our calling is to enable the Holy Spirit to speak through us," the preacher told the Basilian fathers.
The Head of the UGCC thanked them for their invitation: "I could not help but respond to your invitation, because when I heard it, I realized that it was the voice of our history." "I mean," he explained, "the history of the Kyiv Metropolitans of the Basilian Order," said the Father and Head of the UGCC.
The spiritual father of the UGCC expressed his gratitude to the Basilian official for all the good works they have done for the Church during the most difficult times for her: "I thank you for the Crimea, for Donbas, for Slobozhany region, for Kyiv, Volyn'. Your roots are much deeper and broader than Halychyna's borders," he said.
In addition, the Bishop expressed their vision of the image of the future Provincial Superior : "I see the next him primarily as a spiritual healer, who will take care of the deep spiritual life of every member of the Basilian community. The great mission of the Provincial Superior is to heal the wounds of your spiritual struggle against sin."
He then outlined the main points that he believed were necessary for the spiritual renewal and revival of the Basilian community: "First of all, you need to go back to the sources ("ad fontes"). The first source of spiritual life is the Word of God. He who does not read the Scriptures daily cannot live an authentic spiritual life."
The second important source is the spiritual and ascetic heritage of St. Basil the Great: " You must be experts in this field. Today we need to translate all the works of Basil the Great into Ukrainian. May they be a guide to spiritual healing for you."
In conclusion, His Beatitude Sviatoslav assured the Basilian monks of his prayer support. "May the Word of God awaken your conscience so that you may choose a good Provincial Superior," he wished, emphasizing that the issue of the permanent formation of monasticism and clergy was among the priorities of the Universal Church.
The UGCC Department for Information
PUBLICATIONS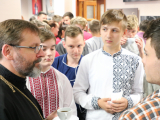 Today, more than ever, is the time for your boldest dreams: to tame the universe, to find a cure for cancer, to conquer epidemics, to build a just...
MEDIA