His Beatitude Sviatoslav hosted delegation of German Evangelical Lutheran Church in Ukraine
Friday, 01 February 2019, 21:39
January 29, 2018 in patriarchal residence Father and Head of UGCC His Beatitude Sviatoslav hosted a delegation of German Evangelical Lutheran Church in Ukraine.
The participants of the meeting were a newly appointed bishop of German Evangelical Lutheran Church in Ukraine Pavlo Shwartz and a senior priest of Saint Catherine Church in Kyiv pastor Mathias Lazi. On the part of Ukrainian Greek Catholic Church was present archpriest Ihor Shaban, Chairman of the UGCC Commission on Interreligious and Interfaith Relations.
Greetings guests, His Beatitude marked that Ukrainian Greek Catholic Church tries to build up sincere and open relationships with all Christians. "Regarding Lutheran Church I recalled a situation happened not so long ago at Maidan, when I was visiting wounded people in your church of Saint Catherine, which turned into an underground hospital for a while. But what impressed me the most was personality of the previous pastor Ralph Haska, his belief and fidelity to Ukrainian people".
Thus, bishop Shwartz thanked for an opportunity to meet with His Beatitude Sviatoslav and with this short referring to the history of foundation of German Evangelical Lutheran Church in Ukraine for the last 27 years told about its present situation and terms of cooperation. As for him, for the last years they have managed not only to revive but also establish liturgical and communal life.
Continuing the conversation Kyiv pastor Mathias Lazi shared his experience of working in Germany where he was delegated from to Kyiv six months ago. The first thing that caught the eye was openness of Greek Catholics to the ecumenical movement what is based on "Ecumenical conception of UGCC".
Another topic of the discussion was measurement of new ways of cooperation between Churches. His Beatitude Sviatoslav suggested to continue developing social direction and start up an intellectual work over popularization of exchanging theological ideas and experience. An important element of cooperation between two confessions remains an ecumenical group "Reconciliation in Europe: a mission of Churches of Poland, Germany, Ukraine and Belarus".
At the end of the meeting His Beatitude Sviatoslav presented the participants an anniversary issue about Ukrainian Greek Catholic Church and wished German Evangelical Lutheran Church in Ukraine development and openness for building a dialogue and peacekeeping.
The UGCC Department of UGCC
PUBLICATIONS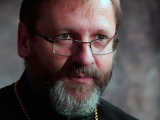 A presentation of the book "Dialogue Heals Wounds" of the Father and Head of the UGCC, His Beatitude Svyatoslav, was recently held. The book is...
MEDIA