I proclaim a solemn gathering of our whole Church at St. Sophia in Kyiv, His Beatitude Sviatoslav
Tuesday, 19 February 2019, 10:37
The Father and the Head of the UGCC, His Beatitude Sviatoslav at the end of Liturgy on Sunday, February 17, solemnly proclaimed the Divine Liturgy at St. Sophia Cathedral in Kyiv on the occasion of the Feast of the Annunciation.
Therefore, everyone is invited to participate in the Liturgy on the 7th of April in the glorious Christian spiritual sanctuary of Ukraine.
"I want to share with you a great joy," said the Head of the UGCC. "On our request this week I received a message from the Minister of Culture of Ukraine Yevhen Nyschuk that on April 7, on the Feast of the Annunciation, we will be able to celebrate the Divine Liturgy at the Cathedral of St. Sophia in Kyiv. Therefore, I invite you all heartily to join this event ... We will do our utmost to enable all of us to duly participate in this Divine Liturgy! Therefore, I will solemnly proclaim a pilgrimage of all our Church to the Cathedral of St. Sophia in Kyiv this April 7," said the spiritual leader of the Greek Catholics.
We would like to add that in the message of the Head of the UGCC devoted to the centenary of the restoration of unity of the Ukrainian people and its statehood, the Primate reminds us that the UGCC is the successor of the Kyiv Church: "The Holy Kyiv Sophia is still a remarkable symbol of integrity and completeness of the single and indivisible Church of Kyiv."
It should be noted that not everyone will be able to get into St. Sophia Cathedral; therefore, on St. Sophia's Square closed circuit monitors will be erected and the faithful gathered there will be able to take part in the Liturgy and receive Holy Confession and Holy Communion.
Department of Information of the UGCC
PUBLICATIONS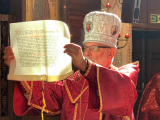 TO OUR BELOVED BROTHER IN CHRIST Most Reverend Bishop Kenneth Anthony Adam Nowakowski
MEDIA