Pope Francis visited Ukrainian community in Rome
Monday, 29 January 2018, 00:02
Sunday, January 28, 2018 will be marked with golden letters in the history of Ukrainian community in Rome. On the invitation of His Beatitude Sviatoslav Father and Head of UGCC – Pope Francis visited Ukrainian cathedral of Saint Sophia, where he met with local community and numerous believers, who arrived from different places of Italy, Ukraine and worldwide.
Thousands of people greeted His Holiness, who arrived twenty minutes earlier of an already arranged program, with loud Ukrainian carols. After meeting Pope, His Beatitude Sviatoslav walked him to St. Sophia Cathedral, where he together with Ukrainian young people let a white pigeon go, as a symbol of peace.
On entering the church Pope blessed children, first of all, sick ones. Greeted all the bishops and statesmen, and after that prayed with Head of UGCC at the altar.
Saluting an honorable guest, His Beatitude Sviatoslav displayed a life and activity of UGCC community in Italy. This church, mainly, is a symbol of its unity, what was built by Josef Slipyi.
The main Archbishop of UGCC also mentioned that the crypt of this basilica has been the only place where families could commemorate and pray for their deceased relatives, without having any clue where they had been buried or do this at the place of a burial". And among those was blessed martyr Omelian Kovch, who was proclaimed a patron of priests of UGCC.
His Beatitude Sviatoslav said that Ukrainian people consider His Holiness "a real legate and builder of peace, peace what is real and just", so much needed in Ukraine. "We are grateful for remembering our people in Your prayers, for a humanitarian campaign "Pope for Ukraine". Thank You for evoking consciousness of European continent, making it compassionate to poor, suffering people, migrants and victims of injustice. Thank You for visiting us here, in Rome! We hope this visitation is the first step, a good sign of Your future visits to Ukraine. Bless us, Holy Father", - he summed up.
Later, His Holiness Pope Francis had a word, asking everybody to join him in a prayer to the Blessed Virgin Mary.
Pope received a lot of fabulous gifts from children and local community, and an Ambassador to the Holy See presented him on behalf of Ukraine faksymile of Peresopnytsia Gospel.
Shortly, Pope prayed in the crypt at the tomb of Stepan Chmil. Leaving the cathedral, he addressed to faithful again, assuring them in his prayers and support, asking for praying for him in turn.
From uk.radiovaticana.va
PUBLICATIONS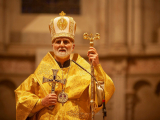 TUESDAY, JUNE 4 DURING HIERARCHIAL DIVINE LITURGY AT THE UKRAINIAN CATHOLIC CATHEDRAL IN PHILADELPHIA OVER 50 BISHOPS, WILL PARTICIPATE...
MEDIA