"So the world can believe, not fade" – Archbishop Claudio Gugerotti during a prayer for Christian unity
Saturday, 27 January 2018, 15:11
On January 21, in Church of St. Basil the Great in Kyiv Father and Head of UGCC His Beatitude Sviatoslav led an ecumenical prayer for Christian unity in co-service with bishops and clergy of Roman Catholic, Orthodox and Protestant's Churches.
In Ukraine as well as in the whole world this prayer opens 50th jubilee Week of prayers for Christian unity.
During the prayer people were addressed with a homily delivered by Apostolic nuncio to Ukraine Archbishop Claudio Gugerotti. He said: "God personally liberates us from those who want to see us as slaves. This topic was handled by community of Christians from Caribbean who've been through the oppression of colonialism for centuries. Peace that Christ brought for them through His death and resurrection is precisely a liberation. But, in which way Christ liberated us", mention an Apostolic nuncio.
The preacher reckons that God calls all of us to realize our own sins and convert. "He calls us to seek the voice of Holy Spirit together, so the world can believe, not to fade because of our differences. Then, we will be granted peace different from what world gives us, measuring power and weapon, defining who is stronger and able to humiliate another, but peace gifted us by Christ, who gave Himself away for the sake of everyone's salvation, mainly those, who had persecuted Him".
By the end of the prayer Head of UGCC thanked representatives from all confessions, religious organizations and believers for praying Moleben.
First and foremost, he thanked Claudio Gugerotti for his profound words. "Thank you for pointing clearly that division between Christians is a sin what we have to repent for jointly", said His Beatitude Sviatoslav.
"Our common prayer, - summed up Head of UGCC, - was a prayer of repentance today. We ask God for hearing our begging, heal all the wounds from division, teach us to seek things that unite us first of all and pay less attention to what separates us".
By the end, a representative from each confession said their own prayer.
Photos taken from Facebook pages of Fr. Ihor Shaban and Ihor Kozlovskyi
The UGCC Department for Information
PUBLICATIONS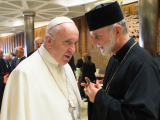 An unprecedented event took place in Rome on July 5-6. Desiring to demonstrate support for the Ukrainian Greek-Catholic Church at a time of...
MEDIA