Synod of Bishops of the UGCC Presented Facsimile Edition of the Peresopnytsia Gospel
Friday, 07 September 2018, 20:49
The Peresopnytsia Gospel is the fourth symbol of Ukrainian statehood, on which Ukrainian presidents make an oath of allegiance to the Ukrainian people. When Ukraine is experiencing the year of God's Word, this event shows us that we are the Church of Volodymyr's Baptism, not just an heir, but the legal successor to Kyivan Christianity.
This was emphasized by His Beatitude Sviatoslav, the Father and the Head of the UGCC, on Thursday, September 6, during the presentation of the facsimile edition of the Peresopnytsia Gospel within the Synod of Bishops of the UGCC, which continues these days in Lviv-Briukhovychi. The presentation was delivered by Ihor Shpak, Alla Istomina and Andriy Haidamakha (representative of the World Congress of Ukrainians) who presented His Beatitude Sviatoslav with the edition "The Peresopnytsia Gospel. Origins and Present." Also, the Head of the UGCC asked Bishop Josafat (Hovera), Exarch of Lutsk, to take into his care the Museum of the Peresopnytsia Gospel in the village of Peresopnytsia (Rivne region).
"Among us is a special Bishop who gave 25 years of his life to the cause, so that the Word of God could be transmitted to Ukrainians throughout the world in a language understood by them ... The central theme of our Synod is God's Word and catechization, that is, the teaching of the Word of God. Therefore, I want to present the book to this particular Bishop," said His Beatitude Sviatoslav and gave the publication to Bishop Petro (Stasiuk), the Ruling Bishop of the Melbourne Diocese (Australia) and the Head of the Patriarchal Catechetical Commission.
It is worth noting that the publication has its own "key" - another book, in which it is possible to find transliteration in Ukrainian letters of the Church Slavonic text.
Reference
Peresopnytsia Gospel is a remarkable manuscript of the Old Ukrainian language and art of the XVI century. One of the first Ukrainian translations of the canonical text (the Four Gospels), carried out in 1556-1561 by Mykhailo Vasylevych from Syanok and the archimandrite of the Peresopnytsia Monastery Hryhoriy.
The book contains a unique material for studying the history of the Ukrainian language.
With the formation of an independent Ukrainian state, it became a tradition during the oath of the President to loyalty to the people of Ukraine along with the Constitution of Ukraine and the Declaration of Independence of Ukraine to place the Peresopnytsia Gospel as the greatest spiritual sacred relic.
Department of Information of the UGCC
PUBLICATIONS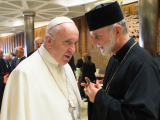 An unprecedented event took place in Rome on July 5-6. Desiring to demonstrate support for the Ukrainian Greek-Catholic Church at a time of...
MEDIA