The Head of the UGCC: "A man who thinks that he achieved anything by himself, is an unwise one"
Monday, 04 December 2017, 17:29
In order to succeed, we must work together with God, Who is the  source of every good, and the source of our life. This was said by the Father and Head of the Ukrainian Greek Catholic Church His Beatitude Sviatoslav on the twenty sixth Sunday after the Descent of the Holy Spirit in the nunnery for the sisters of the Most Holy Family in Lviv during his homily to the faithful.
The preacher observed that today's Gospel tells us about an unwise rich man... Actually, this is God's Word about true wisdom - God's Word which wants to make us not only rich and successful but also wise in our earthly life.
According to the Primate, in the books of the Old Testament we can find profound lessons about wisdom, which we must know in order to achieve something in this life. "But that wisdom of achieving lies in the fact that only by his own strength and efforts no one can become successful," emphasized His Beatitude Sviatoslav. "To succeed, we need to work together with God, Who is the source of every good, and the source of our life. Whoever believes that he has achieved anything by himself, is unwise. For he doesn't know, where everything he has comes from."
"However," went on the Head of the Church, "we need also another wisdom – to use what the Lord our God gave us. This wisdom means that whatever the Lord our God has given you, is only an advance, a down payment. Whatever you possess today, is only a sign of God's love for you and a reminder that God has something much better and greater for you in eternity..."
In our personal efforts, says the Primate, in our work, we can experience similar temptations. "In order to teach a man to gain things correctly and not to lose them, one of the best teachers, Saint Ignatius Loyola said: pray as if everything depends only on God, but work as if everything depends only on you. By the way, His Beatitude Lubomyr loved these words and repeated them to everyone who came to see him."
"It is in the collaboration with the God's gifts which we have now, lies the secret of wisdom and success, sense of everything we possess now. Also, here lies the wisdom how not to lose what we have," added the preacher.
During the Hierarchical Liturgy led by His Beatitude Sviatoslav, sister Maria made eternal vows.
Photo: Fr. Ipatiy Vaschyshyn, OSBM
The UGCC Department of Information
PUBLICATIONS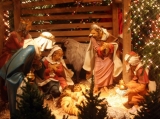 Christ is Born! "Today Christ is Born of the Virgin in Bethlehem. Today, the eternal One has a beginning, today the Word becomes...
MEDIA