The Head of the UGCC participated in a joint prayer for the victims of the Holodomor
Saturday, 23 November 2019, 21:49
On the Day of Remembrance for the Victims of the 1932-1933 Holodomor in Ukraine, His Beatitude Sviatoslav took part in the commemoration of the innocent people killed in those terrible years.
The ceremony was also attended by Chairman of the Verkhovna Rada Dmytro Razumkov, Prime Minister Oleksiy Honcharuk, representatives of the diplomatic corps and other officials, who took part in the mournful procession to the statue Bitter Memory of Childhood on the territory of the National Museum of the Holodomor-Genocide in Kyiv.
At the Memorial, the leaders of the Ukrainian Churches jointly prayed the Panakhyda for the victims of this manmade famine.
In his speech, President of Ukraine Volodymyr Zelensky stressed that the Holodomor is a tragedy that a normal person will not wish even to his enemies.
At the conclusion of the prayer and speech, the President announced a nation-wide moment of silence, after which the all-Ukrainian "Light a Candle" campaign began.
The UGCC Department for Information
PUBLICATIONS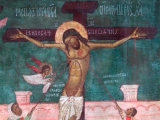 "Open to me the doors of repentance, O Giver of Life. As we worship in Your temple this morning, teach us how to purify the temple of our...
MEDIA