The Rite of Episcopal Nomination of a New Bishop of the UGCC Took Place in Briukhovychi
Wednesday, 27 November 2019, 15:37
On November 26, 2019, Great Vespers with the Rite of Episcopal Nomination for Ivan Kulyk as the ruling bishop of Kamianets'-Podilsk Eparchy was served at the Sobor of the Theotokos, the Basilian monastery church in Briukhovychi. Bishops of the UGCC and the RCC, who are participating in a joint retreat these days, attended the service.
The Secretary of the Synod of Bishops of the UGCC, Bishop Bohdan Dzurakh, began by reading the charter and decree of the Father and Head of the UGCC appointing Bishop Ivan Kulyk to the episcopal ministry in the Eparchy of Kamianets'-Podilsk.
Then the newly appointed Bishop Ivan Kulyk offered his profession of faith and took the oath of allegiance on the Gospel to the Pope and to the Father and Head of the UGCC.
The episcopal ordination and the rite of enthronement of the Bishop of Kamianets'-Podilsk Eparchy of the UGCC will take place on December 1, 2019, in Khmelnyts'ky, at the Cathedral of the Nativity of the Theotokos (10/3 Zarichanska St.). The Divine Liturgy will begin at 12.00.
Biography:
Bishop-elect Ivan Kulyk was born on March 16, 1979, in Perevolok, Ternopil region. He began his priestly formation at the Ternopil Higher Theological Seminary and completed his studies at the Lublin Seminary in Poland, after which he was ordained to the priesthood on May 8, 2005.
From 2005 to 2009 Fr. Ivan studied at the Pontifical Patristic Institute "Augustinianum," obtaining a license in Patristics. During his studies, he conducted pastoral care in Ukrainian Greek Catholic communities in various cities in Italy. In 2009, he was appointed Administrator of the Ukrainian Catholic Parish of Saints Sergius and Bacchus in Rome, and became its pastor in 2013.
Photo: vifbs.in.ua
UGCC Department of Information
PUBLICATIONS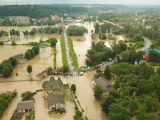 Your Graces and Excellencies, Very Reverend and Reverend Fathers, Venerable Brothers and Sisters in monastic and religious...
MEDIA