The visit of the Head of the UGCC to Austria has begun
Friday, 08 November 2019, 20:10
During his regular visit to Austria, the Head of the Ukrainian Greek Catholic Church, His Beatitude Sviatoslav, will visit Innsbruck for the first time, and later Vienna.
The visit of the Head of the UGCC to Austria began with the arrival in Innsbruck on the evening of November 7. His Beatitude Sviatoslav was met by the UGCC faithful and clergymen from Austria. The Vicar General for the faithful of the Eastern Catholic Churches in Austria, Father Yuriy Kolasa accompanied His Beatitude on the trip.
At the airport of Innsbruck His Beatitude Sviatoslav was greeted by Fr. Volodymyr Voloshyn; Honorary Consul of Ukraine in Innsbruck Walter Peyer; representative of the Ukrainian community in Tyrol Olha Fedyshyn. And in the waiting room of Innsbruck Airport there was a large delegation of Ukrainian believers who sincerely rejoiced in the pastoral visit of the Head of the UGCC to the Austrian Tyrol. Children in embroideries presented symbolic gifts to the Primate - a heart made of alpine pine by local craftsmen, which says "Congratulations" in Ukrainian, and a warm scarf and cap with Tyrolean symbolics to prepare the patriarch for severe conditions in the Alps mountains.
The Head of the UGCC was also greeted by the representative of the Ukrainian pastoral ministry in Innsbruck, Lidia Melnyk, and the student-theologian Fr. Roman Ptasyuk. The parish priest of the Ukrainian community in Tirol, Fr. Volodymyr Voloshyn reminded how important Innsbruck had been to Josyf Slipyj. In the Tyrol capital he had defended both of his theses.
"In exile to Siberia, in the worst inhuman conditions, one of the prisoners advised the Patriarch to look into the depths of his heart, into the most sacred memory in order to survive... This memory for the Patriarch was, in fact, Innsbruck," said Fr. Volodymyr.
It should be reminded that the Head of the UGCC arrived in Tyrol on the occasion of the solemn celebration of the 120th anniversary of the presence of Ukrainian students and Ukrainian community in Innsbruck. Traditionally, the best Greek-Catholic theologians have been deepening their knowledge in one of the leading centers of European theological thought, namely the Leopold-Franz University of Innsbruck. Around the students of theology the Ukrainian community was gradually formed. On November 8-10, on the occasion of this anniversary, large-scale celebrations will take place; their program includes a solemn academy at the Faculty of Theology of Innsbruck University; Divine Liturgy, which will be celebrated in German at Innsbruck Cathedral, and also in Ukrainian - in the former premises of the Jesuit Collegium Canisianum.
Photo: Roman Petruniv
Press service of Ordinariate for the Faithful of Eastern Catholic Churches in Austria
Lidia Melnyk
PUBLICATIONS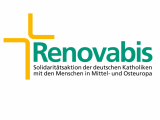 From 13 to 19 May, the Father and Head of the Ukrainian Greek Catholic Church (UGCC), His Beatitude Sviatoslav, was to visit Germany at the...
MEDIA