This temple will always be a time and space for a reunion between God and people, - Head of UGCC in Chernivtsi
Monday, 10 December 2018, 22:28
Ukrainian people need Heavenly Father who is ready to listen to everyone without fail, thus we need to believe in this healing.
Head and Father of UGCC His Beatitude Sviatoslav emphasized during his homily at the church of Assumption of the Blessed Virgin Mary in Chernivtsi on Sunday, December 9, 2018. The major Archbishop sanctified the main space of the church – sanctuary which has recently been reconstructed and painted in a modern style.
"A word of God directed to us today through Saint Gospel from Luke tells us about God Who listens to people", was said at the beginning of the homily.
"Jesus Christ instructs that faith in God doesn't work according to a formula, neither the list of truths to be acknowledged when it cannot be understood. Faith is a longing for God. Faith is a way, reunion with Jesus, a meeting with a living God. Faith is a healing", marked Head of UGCC.
As for him we ought to look for our own way to sanity, to a church, to a meeting with Lord. "This church will always be a time and space for a reunion between God and people; a moment when God's hand will touch us with His grace, while we will be awakening, observing ourselves, surrounding us people and the whole world with new eyes of faith. Since a true blind man is the one who does not believe", the leader of Greek catholics assumes.
He believes that sanctification of the sanctuary in nothing else but a restoration of a cathedral of Assumption of the Blessed Virgin Mary in Chernivtsi, a moment of enlightenment and renewal.
At the end of the Liturgy His Beatitude Sviatoslav thanked bishops for their presence, particularly bishop Josaphat Moshchych for his ministering and work at the eparchy of our Church in Chernivtsi and those who joined to the church's buildup.
Hence, region's authority honored His Beatitude Sviatoslav with an award for contribution into spiritual resurgence.
At the end of the Service Head of UGCC called faithful to pray for orthodox Ukrainians and Unification Council planned for December 15, as well for Ukraine and honest elections.
The UGCC Department for Information
PUBLICATIONS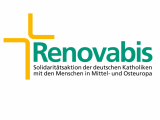 From 13 to 19 May, the Father and Head of the Ukrainian Greek Catholic Church (UGCC), His Beatitude Sviatoslav, was to visit Germany at the...
MEDIA