Today Christ is stepping into the Jordan river to transform a man, His Beatitude Sviatoslav
Tuesday, 22 January 2019, 14:58
Today God is revealing to us springs of eternal life which He left within Church. He steps into the Jordan River to transform a man, to respond to our needs and wishes, to satisfy a longing for God. Head and Father of UGCC His Beatitude Sviatoslav said on his homily on the Day of Theophany of Our Lord Jesus Christ at the Patriarchal Cathedral of Resurrection of Christ in Kyiv.
Bishop Bohdan Dziurakh, the Secretary of the Synod of Bishops and bishop Josyf Milian, Bishop-Auxiliary of Kyiv Archeparchy co-served Head of Church.
According to the spiritual leader of Greek-Catholics Christ's Church celebrates today one of the biggest Christian holidays – Theophany. Holy fathers used to call it an Enlightenment. As it is referred to one very important historical event – Baptism of Jesus Christ, Our Lord and Savior in the Jordan River.
In today's Gospel we hear a story about Jesus coming to Jordan. "After His birth Jesus Christ hadn't been known in Israel because he was leading a silent life. And now, in His baptism He starts a public homily and mission", the major Archbishop said.
"Thus, in Theophany we see a beginning of Christ's complete preaching".
Another reason for celebrating Theophany of Our Lord is that this day God exposed Himself to people. After Christ had been baptized and went up out of the water – heaven was opened. John the Baptist saw the Spirit of God descending like a dove above our Lord. And then the voice of the Father as if from heaven saying: "This is my Son, whom I love; with him I am well pleased".
"Today God is not just opening Heaven before a man. He opens Himself in the womb of the Holy Trinity. The voice of God declares that Son is going down to the womb of land, the Jordan River, covering with the land waters. The Holy Spirit indicates who our Savior is. This holiday is crucially important to us. As today, seeing Christ in the Jordan, Father in Son through the Holy Spirit reveals us the source of eternal life", said His Beatitide Sviatoslav.
This day God reveals us a story about our own selves. He wants us to know who we really are and for what we were born. The sense of our vocation.
"The source of eternal life which pumps within our Church emerges from the Holy Trinity. This is the source of renewal, source of communion and eternal life. And the moment of this renewal, creation a man with the power of the Holy Spirit is Baptism, which enables us to become the participants of eternal life", emphasized His Beatitude Sviatoslav.
The event we witness today cannot be limited by any space or time. God is coming, revealing Himself, looking for a man.
"Open your heart for God the same way how the Holy Trinity opens its womb for us. Baptized Christ may enlighten us, grants us hope and light for our Ukraine. The whole Ukraine may wash up with joy, peace, light and calmness", the spiritual leader wished.
Traditionally, at the end of the Liturgy Head of UGCC blessed waters on the Dnipro River.
The UGCC Department for Information
PUBLICATIONS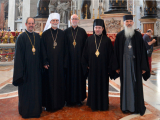 Glory to Jesus Christ! Beloved Brothers and Sisters in Christ!
MEDIA