Today we especially consign Ukrainian militaries and all those who suffer from wounds of war and pandemic to the intercession of the Theotokos - Head of the UGCC on the Day of Intercession
Friday, 16 October 2020, 14:43
Today the Blessed Virgin Mary covers everyone with her omophorion and takes all our fears, pain and difficulties upon her, being personally our mother carries them in a prayer to her Godlike Son, what is the sense and individuality of today's feast. His Beatitude Sviatoslav, Father and Head of the UGCC emphasized in his homily to the faithful on Intercession Day of the Most Holy Theotokos at the Patriarchal Cathedral of the Resurrection of Christ in Kyiv.
The preacher mentioned that the majority of feasts within the liturgical year which are dedicated to the Theotokos direct us to the past and tell us about her earthly life, whereas the Day of Intercession reveals us her place and role in the life of Church today, in eternal "now" of God.
Head of the Church also compared the Revelation of Intercession to other revelations of the Theotokos, which had been occurring in different parts of the world. As for him, it is something special because Theotokos does not directly interact with a man through it but, specifically, reveals us something deeper, what is vital to a spiritual life of a Christian.
The Major Archbishop reminded that this day we celebrate Defender's Day in Ukraine. "In today's holiday mother's tenderness which is pumping somewhere, as a light of God's love displays sense, nature and tasks of Ukrainian troops. An army which has a day of Intercession as a model of serving Ukrainian people is special. It is not the army of invaders or the one who are pursuing somebody's welfare, but the ones who are defenders. Today's holiday shows it explicitly", emphasized Head of the Church.
His Beatitude Sviatoslav also mentioned that we deal with a lot of danger and fears, due to the attack we experience from our invisible enemy. We want a prayer for intercession, what the Mother of God herself is teaching us today reach out for everyone who is on bed of illness, who is need of a special care. Today we are sending our prayers especially for our doctors.
"May the Blessed Virgin Mary cover with her omophorion all those who are ill, either at the hospital or at home, everyone who stay on a forced self-isolation, thus each medical worker, who is guarding over health and life of every Ukrainian who needs it", the preacher wished.
The UGCC Department for Information
PUBLICATIONS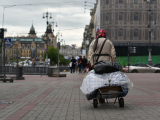 Pastoral Letter of the Synod of Bishops of the Ukrainian Greek-Catholic Church of 2020 to the clergy, religious, and laity...
MEDIA