UGCC Head Wishes President of Ukraine Courage to Say Let my People Go During Meeting in Norman Format
Thursday, 05 December 2019, 11:24
I want to wish you the strength of Moses, who could tell Pharaoh "Let my people go." Because no one today is as interested in peace in Ukraine as Ukrainians. Russia has its own interests, the rich countries of the West have their own interests. We cannot, in those negotiations, abandon our desire to be a free, independent state that has chosen its path of development.
This was emphasized by His Beatitude Sviatoslav, Father and Head of the UGCC, during the meeting of the President of Ukraine Volodymyr Zelensky with the members of the All-Ukrainian Council of Churches and Religious Organizations (AUCCRO). The meeting was held on December 4, 2019.
The Head of the UGCC noted that today Ukraine is a democratic state where everyone feels free - regardless of religion, and the religious community values ​​this highly.
He noted that today there are two possible ways of Ukraine's development: a return to the Soviet past or development of a European country. His Beatitude Sviatoslav explained that the UGCC is opposed to a return to the past, because during the rule of the Soviet regime our Church was driven underground. These days mark the 30th anniversary for Gorbachev's meeting with Pope John Paul II. This meeting was the beginning of the legalization of the UGCC. That is why our Church, according to her Primate, supports Ukraine's path to the European community.
The Head of the UGCC wished the President wisdom and assured of support in the work for the benefit of Ukrainians, since the Church and the State are two partners who serve the good of the same nation. Therefore, when the state authorities take steps for a better future for our citizens, the Church will always support such initiatives.
The meeting of President Volodymyr Zelensky with the representatives of the AUCCRO was held before the Norman format summit. The President stressed that it was important for him to hear advice. "Then I'll feel like we're all together," he said.
Representatives of Churches and religious organizations indicated that they were praying for peace in Ukraine and wished the President the strength, patience and blessing of God in the talks of the leaders of the Norman countries, reports www.president.gov.ua.
The UGCC Department for Information
PUBLICATIONS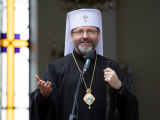 When we see people's transgressions, iniquities and even crimes we, first of all, have to undertake an examination of conscience, so not to do...
MEDIA